Some of you saw on Sunday where I mentioned an AT&T employee fixed my phone and internet after it was offline for 9 1/2 days. He put in a new box outside and ran a new line inside. Apparently, my system is very old and they are upgrading from copper wiring to fiber optics in my neighborhood. When I asked if my internet was fixed, he didn't realize I had internet. That's when they issued a new work order. However, I got tired of waiting and my friend Scott and I called on Thursday. They sent someone out Sunday, as promised. I apologize for not visiting anyone last week for T. I had no way to let anyone know and trying to type on Sally's iPad was nearly impossible, because my fingers don't lay flat or bend like most people's fingers do. However, I'm back and HOPEFULLY, I'll not have the same problems I had in the past. Also, hopefully, I won't be offline again. That is UNTIL they upgrade me to fiber optics.
Today (September 29) is National Coffee Day. I know that will make some of you very happy and some of you who don't drink coffee will feel very left out. I asked
Pexels
to help celebrate this day.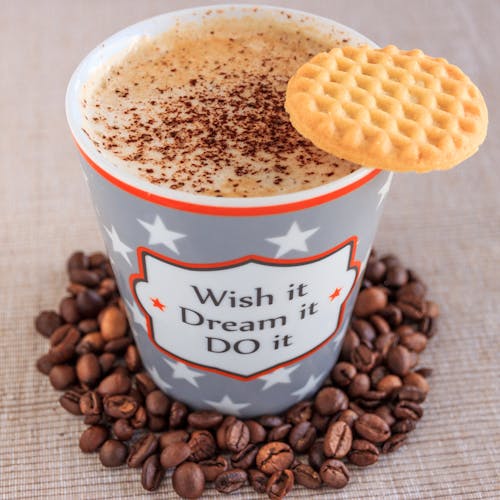 I hope you have found at least one image you liked today. I tried to show a wide variety of ways to enjoy my drink of choice. One of these days, we'll do the same with tea.
It's time to share your own drink related post.
Your post may be anything from a photo of a glass, cup, or mug, to an actual drink. You may choose to share a sketch or a digital, hybrid, or traditional page in your scrapbook, art journal, or altered book. Maybe you'd prefer to share a tag, or wow us with your photography. You might choose a postcard, decorated card, or magazine image. You might even draw an image on a used tea bag. Or perhaps you prefer to review a place you visited, a movie, or book. It makes no difference as long as it's drink related. And don't forget that the more unique and outside the box it is, the better we like it. Please tie it back here, and please link only to your T post, not your entire blog. When you link, Bleubeard, the T gang, and I will be by to visit. Bleubeard would also like to remind you that your photos may be taken any time, even months or years ago, if you
I want to remind everyone to be digging up your Second on the 2nd posts. Please remember, the only requirement is it must have been published previously on your blog. Any post, any length, any genre is acceptable.