I bet you thought I would celebrate Mardi Gras style this week,
like I have with Mard Gras beads and King Cake babies in the past,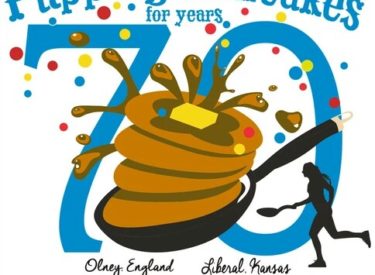 or I would share the results of the Shrove Tuesday pancake race between Olney, England and Liberal, Kansas. Sadly, neither of these are on my agenda today.
Instead, before the end of the year (2018), my foodie friend Sally wanted to go back to Newton, KS, a town about 35 miles (56,3 kilometers) north of Wichita.
Our destination on this bitterly cold, windy, rainy day was Curtis C's.
She had seen a review of the place and wanted to check it out. She wanted an entree
and I personally didn't care, because I didn't find a thing on the menu for a vegetarian. See what I mean by Kansas has not caught on to the fact there are a few of us out there.
I suspect you want to see the beverages, although I ordered water, as did Sally.
She talked me into getting a chicken fried steak, which I gave her to take home to eat the next day. Each entree included one trip through the salad bar, a pototo of choice (I got baked), a roll, and a veggie. Sally had corn and I suspect I did, too.
I pigged out on the salad, even though the bowls were not large.
After I ate, Sally boxed up my chicken fried steak and white gravy, while I took a few photos of the sports memorabilia. You can see the tiny salad bar in the next room.
If you live in the states, these might mean something to you. If not, feel free to skip to the end.
Feel free to scroll at your own pace.
Sports trading cards were on every table.
OK, I admit it. I got a bit carried away here,
because everything on this wall honored Joe Montana. Per
Wikipedia
he was an:
American football quarterback who played in the National Football League for 16 seasons, primarily with the San Francisco 49ers and then with the Kansas City Chiefs for the final two seasons of his NFL career.
I have no idea who this is.
I don't know this basketball player, either.
It seems basketball wasn't as well represented as some of the other sports.
It's now time for you to share your own drink related post. It can be gifts you received, photos, a place you visited, movies, postcards, books, sketches, mixed media, drawings, paintings, tags, scrapbooking, or other art that is digital, hybrid, or traditional, as long as it in some way relates back to a drink, any drink. Regardless, please share below and Bleubeard and I, along with the rest of the T gang will be by to visit. Please link only your T post and not your blog in general. Old photos are acceptable because they may be taken any time, not just on Tuesday and not just this year.