Today is ARTifacts day, the brainchild of
Seth Apter
. But I'm really spreading the love because I'm also joining challenges at
Art Journal Journey
,
Moo-Mania and More
,
Tag Tuesday
, and
Try it on Tuesday
. Unlike some people who join a lot of challenges at once just because they seem to fit, I will actually share both the how and why I created these pages in my Rocking Horse Journal.
This is my ARTifacts page, the one that
Seth
will share on his blog sometime in September. The rest, although normally just step-out photos, will show each of the challenges I'm participating in.
We can begin with
Try it on Tuesday
, where their newest theme is
Sewing
. Everything on these pages is sewn, with the exception of the little TH paper doll (boy on the flash card) that I attached with glue dots when I felt the tag needed something.
Speaking of tags,
Michele has chosen
Back to School
as the theme for
Tag Tuesday
. This is a theme that is near and dear to me, as many of you know when I hosted Art Journal Journey last September.
The nice thing about having images on your computer is you can print them any size you wish. This represents the classroom, although you probably can't read my writing.
Some of the things you could find in this one room classroom might include a French dictionary, ink pens and nibs, numbers,
and letters. I was hoping it would look like "Back to school" was written in chalk on a blackboard.
The kindergarten class is ready to learn
shapes and colors. They might also get to see a movie or sing a song.
The little boy is ready for his first lesson.
Once complete, I sewed the tag onto the right side of my page. For the tag I began with a used file folder. I cut the corners using decorative scissors. I added images I copied from my files, a same/different flash card, black card stock, a white gel pen, and the little boy.
The left side was created specifically for
Art Journal Journey
and
Moo-Mania and More.
MM&M's theme is Birds, and there are several on this page.
We'll begin at the top, where the Red-Cockaded Woodpecker (
found in southeastern North America)
is on an Endangered Species stamp.
Note also the date, as well as my mention of change in the air, both literally and figuratively.
Now we'll join
Jo whose blog is Let's Art Journal,
this month's host at Art Journal Journey and her theme Poetry in Motion.
Thy love can make my heart as blest




As happy birds in a flow'ry nest.
With less than 24 hours to go, I am adding this just under the wire.
Of course, there are the birds alluded to in the poem, too.
For the left side, I started with a beige doily, found several endangered species stamps in my stash, wrote the date in red ink, wrote "Change is in the air" on black card stock with a white gel pen, and found this adorable image in my stash, too.
All images, the doily, tag, and postage stamp were sewn using variegated thread.
Thank you for joining me today. I appreciate your visit and taking time to leave such lovely comments, too.
I want to thank Seth for coming up with this wonderful collaboration, as well as hosting this monthly event.
I will also be checking in with
Art Journal Journey,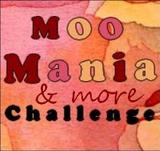 Moo-Mania & More,
Tag Tuesday,
and
Try it on Tuesday.