In looking over the comments from yesterday concerning PBS, I want to reiterate answers to a few comments I received.
Mae wrote:
I'm very intrigued, and tried to find more info. Could you give the source of your dollar amounts for public broadcasting support? The source I read said Kansas has state funding at the level of $500,000.

Link: https://current.org/state-funding-guide/
Here was my reply:
Mae brought up a good point when she read we get $250 K a year from the state of Kansas (down from 500 K in 2021). Here's what I learned:

The Kansas Public Broadcasting Council, which divides the amount among four public TV stations and five public radio stations following a formula similar to CPB's. "It is also weighted to ensure that most goes to stations serving rural communities in Kansas," said Debra Fraser, GM at KMUW in Wichita and chair of the Council.
The $250 K is spread over 4 TV and 5 radio stations. The money must be divided among 9 entities. I know my PBS station gets 50 K a year after everything has been divided because they tell us that every time they have a pledge drive which is four times a year. They couldn't say it on camera if it wasn't correct!
Kathy and Deb commented on local news. My PBS station doesn't have local news. They DO have BBC News Hour late at night, which is early the next morning in the UK. But the only "local" stuff we get is when the President of the local PBS station interviews someone in the community. That is NOT news, but an interview. And, it is pre-recorded, I suspect. If we want "local news," we have to go to one of our local stations, which, in my area are ABC, CBS, FOX, and NBC.
PBS got a new President in 2017. The first thing he did was start a campaign to raise funds for a new building. He thought the old building was appalling. It had been a service station 40 years ago when KPTS purchased it. He got a lot of heavy lifters from what I could tell when I went. Some I know personally, too.
Jeanie brought up a good point. Their children's programs are above reproach. In fact, they are so well loved, they are shown every morning on the main channel, but have their own 24 hour channel, too. Although I didn't, I know some of you grew up watching Sesame Street.
Erika thought I was trying to compare PBS Passport to Prime. I was NOT. I DID, however compare it to Acorn, which, as I understand, you must be a member in good standing before you are offered a yearly rate. At $6.99 (USD), that comes to $83.88/year as opposed to $75.00 (USD) a year for Passport. And PBS has British dramas and mysteries too, including Doc Martin, Father Brown, Midsomer Murders, and my favorite, Death in Paradise. However, since the rights to these British shows must be purchased separately, they are more expensive and are not included in Passport. Fortunately, Vienna Blood, Endeavour (as I mentioned yesterday), Broadchurch, and other British shows are available through PBS Passport.
You can tell I'm a mystery lover, so I mention primarily mysteries. However, there are ghost stories, scary stuff, and lots of romance, which I would never watch. OK, I DO watch All Creatures Great and Small, but that is as mushy as I'll allow myself!

Now let me take you to the Party at PBS. BTW, I took over 400 photos, so culling them down took awhile.

I forgot I had taken this personal invitation from my local PBS station.
Sadly, it never closed properly again after I opened it.
As you can see, Wednesday was by invitation only. As a member, which was yesterday, I could have gone again, but didn't need to RSVP my intentions. It was a come and go type day, where the ribbon cutting and ceremony was a planned event for certain invited members only.
Then it was time to go outside. I chose to stay in where it was cool. I wasn't comfortable going out in 100 F (~38 C ) heat. The gentleman holding the door open was the President,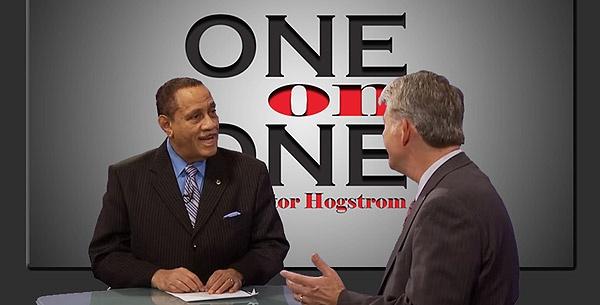 Victor Hogstrom, who is on the left in this photo I found on the KPTS website.
I shot this through the window
and this of Hogstrom starting the ceremonies.
This is the Executive Director of "PBS Kansas." Hard to write, since I've known it as KPTS since I've lived in Wichita.
Next it was time to take a tour of the new facility
Thanks for sticking with me. I was pretty impressed that I culled over 400 photos down to less than 50. Those are my smiles this week
. Thanks for

spending a bit of time with Bleubeard and me this Friday. Now PLEASE visit

Annie and don't forget to start your weekend with a smile.