I honestly thought I would feel better on Sunday, but I simply slept most of the day. I had hoped to have this ready by midnight my time, but, as you can see, it has taken me much longer because of this .html problem I must deal with.
I was determined to pay homage to
Jo whose blog is Let's Art Journal,
this month's host at Art Journal Journey and her theme Poetry in Motion. I felt guilty that I hadn't participated more.
I can also pay homage to
Moo-Mania and More, where their theme is Birds, as well as Try it on Tuesday, with their theme of In My Garden.
The cute American goldfinch is happy to be in this garden.
I found this positive and meaningful saying
that was the right color for the flowers and the background.
What sunshine is to flowers, smiles are to humanity.
~Joseph Addison
Originally, I planned to decorate the page with three purple hearts,
then decided feathers would be much better.
I really hated to cover the background, but felt fussy cutting would not be possible in my present condition.
Materials used included a used file folder, painted and decorated, a quote found in my stash, two feathers, and a magazine image.
Thanks for joining me again today, as I feebly try to meet the challenges at
Art Journal Journey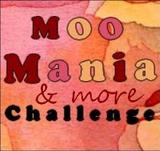 Moo-Mania & More
and
Try it on Tuesday.
Once again, my apologies for not visiting. I will no longer promise anything, because I don't seem to be able to do much except sleep, eat, and drink right now.