Today I'm starting with three handmade tags.
The two on the left were cut from used file folders, while the one on the right is from 110 lb. cardstock. I chose these because I often see people brushing color on cards, journal pages, or tags, then wiping the excess on a paper (kitchen) towel. I hate waste of any kind, therefore the white cardstock for cleaning my brush.
Painting, rather than spritzing my handmade shimmering mists on the two left tags gave me the one on the right. The middle one has very pale (too pale for my taste) blue mist. The splatters were made when I flicked my brush over the middle tag.
My dear friend Chrissie is hosting "
My Favorite Color Combination
" at Tag Tuesday.
For some reason, links no longer work in HTML.
Chrissie can be found at https://jumbledcrafts.blogspot.com/ . Looks like I can't decide what my favorite color is, but I know it's shimmering!
I chose to decorate the tag with this darling cat (stamped it on the correct side this time) because Moo-Mania and More has "
Cats
" as their theme this fortnight.
I finally figured a way to join Jo's theme of "
Poetry in Motion
" at Art Journal Journey. For someone who prides herself in reading every word, Jo's
For this month's challenge you are invited to use your favourite poems, quotes and sayings to inspire your designs
words were lost on me. It took awhile to figure out what she actually meant by this. Jo can be found at https://letsartjournal.wordpress.com/ .
So today I give you "
JUMP!
" Yes, the lyrics were stolen from Van Halen. And although Jo didn't say anything about lyrics, at least the "poem" rhymed, which is better than a haiku (which makes no sense to me).
In addition to adding the darling cat, I included "words of encouragement for Squiggles" in a tag to which I also added some of Valerie's beautiful ribbon. Valerie's blog is https://bastelmania-craftattack.blogspot.com/ .
My dear friend Chris (whose blog is http://pearshapedcrafting.blogspot.com/ ) sent me this stencil and I used the first of my handmade texture paste (shown in a tutorial under "Recipes (2) for making texture paste"). I wrote the tutorial in February, 2015, and the paste was still as good as the day I created it. I was both surprised and thrilled, since I hadn't thought about it since I made it.
I tried to go over it with some rub-n-buff, but I think
that
product has dried up.
Here are the three tags together, which lead to
Jump!
And most cat owners know that cats DO like to Jump!
Materials for this spread include a used file folder, three handmade tags, handmade shimmering mists, part of a tissue box, and computer generated text.
While I was photographing this page,
look who joined us. He's definitely not a jumper, but then, neither is Bleubeard. They both learned early not to jump on anything except my bed.
For those of you who were here yesterday and concerned that the "boys" might eat the lilies, both are now indoor only cats. Squiggles has NEVER been outside and Bleubeard prefers to lounge in the AC (or heat in winter). He went out once with me in early spring, and was only too happy to return to the comforts inside.
And even though I can't get links to work, if you right click on the icons on the right side of my blog, you will be taken to
Tag Tuesday,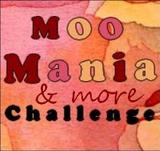 Moo-Mania & More,
and Art Journal Journey.
Hope to see you at each of these places, too. Thanks, too, for understanding my inability to get my links to work, because I really love linking people and challenges. I really appreciate your visit, too.