Some of you may have noticed I have been absent, both posting and commenting for several days. I have a dear friend who is a physician assistant. She stopped by when I called because I had coughed for nearly a day. She listened to my lungs (is that the correct term?) after I told her I had inhaled mold. She heard first hand the rattle and wheeze I had described to her on the phone. Although I chose not to go to a doctor, he believes I have bronchial pneumonia after the mold settled in my lungs. She said if I wasn't going to a doctor, to at least stay in bed, drink lots of fluids, and get lots of rest. I started to feel guilty, and decided I needed to drag myself out of bed long enough to meet a few challenges. I may not make it by to visit anyone for awhile because just the act of getting these photos on my blog, has been enough for one day.
I give you my take on birds in my garden.
I'm honoring
Jo whose blog is Let's Art Journal,
this month's host of Art Journal Journey, with her theme of Poetry in Motion. I'm also honoring Moo-Mania and More, where their theme is Birds, as well as Try it on Tuesday, with their theme of In My Garden.
I thought this quote by Kirby Larson was perfect, even though the bird I chose was a hummingbird. In case you can't read the quote it is:
The wren and the nightingale sound nothing alike, but think how dull my garden would be without the songs of both birds.
I was going to add some silk flowers, but I didn't want to make the trip to the basement to look for them, so I took the lazy safe way out and added some floral washi tape.
Materials I used include a used file folder that is painted purple on the reverse, then added a magazine image, a beige doily, washi tape, and a computer generated quote I found on the internet.
Thanks for joining me today from my sick bed as I join
Art Journal Journey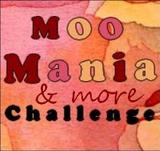 Moo-Mania & More
and Try it on Tuesday.
Thanks, too, for your concern over my well being.