Today we have been invited to John and Mary's summer wedding at
Art Journal Journey
. John and Mary will use the carriage to visit
Moo-Mania and More whose theme this fortnight is Wheels.
Mary has picked charmeuse that has a silk satin finish. A white lace overlay was sewn onto the dress she made herself.
Because the evenings are cool, she picked a bodice top to cover the gown. Her traditional veil was attached to a stylish cap. Her choice of flowers included pink and purple roses.
John chose a stylish black gabardine jacket and lightweight white cotton twill trousers. He paired the white shirt with a pale pink tie and wore a pink and purple boutonnière in the left lapel of his jacket.
John chartered a carriage to bring Mary to the chapel,
then take them on their honeymoon after the reception. I hope you RSVP'd with love.
Materials used include a sheet of heavy card stock spritzed with handmade shimmering mists, three background papers, a wedding photo from my files, washi tape, a 3-D Cinderella carriage, pink and purple crayons, a heart button, and computer generated text.
Bleubeard, my fearless and welcoming co-host and I are delighted you stopped by and invite you to join us at Art Journal Journey where the theme this month is Summertime Love.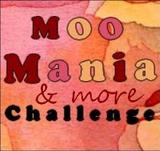 We are also joining
Moo-Mania and More whose theme this fortnight is Wheels. Won't you join us?
I have no idea why my font changed so radically, but after trying to correct it at least six times, I am giving up. Gotta' love blogger (not).