Every summer there is one day that we vividly remember. It's one we will talk about until winter sets in.
It's what we call a perfect summer day.
It might be one filled with fun and laughter, shared with friends and family,
or it might be one we chose to spend in solitude and reflection.
It might be one where ocean waves slapped against the shore,
or we stumbled on a starfish (sea star) drug up from the ocean bottom by the waves.
This perfect summer day
practically writes its own story.
It needs very little embellishing.
It is perfect just the way we remember it.
Materials for this page began with a used file folder I colored using pale pink acrylic paint. While still wet, I laid a page from an old telephone book on top, then ripped it away, leaving bits and pieces of the thin page behind. I backed the computer generated sentiment with more of the phone book page that picked up the same color. The focal image came from a magazine. I added white stickles to emphasize the waves, and a dimensional starfish. Because I felt it needed something more, I used my hand made chevron stamp at the bottom of the page.
Thanks for joining Bleubeard and me today at
Art Journal Journey
as we share a perfect summer day that is loaded with
summertime love
. It may even be a perfect summertime day for you, too.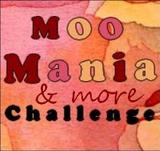 Because time is quickly running out on
Moo-Mania and More
's
Africa
theme,
I created this entry that should meet the requirements.
I had printed this quote by the Dalai Lama for another (very different) AJJ entry, but I thought it would go well with an African spread. I used a watercolor crayon to knock down the bright red paper I printed it on, but when I did, I got the orange crayon on the image of Africa. I probably should have printed it on different paper, but I already had it glued to the page before I realized what a mess I had made.
I found this giraffe charm in my stash,
along with an iron-on patch in the shape of a giraffe.
The word "Africa" in the second photo above was on the package of twisted wires that I used as embellishments. The wires were made by African women who support themselves and their families by creating these embellishments and selling them under a licensed contract. Since I am in favor of helping women from ANY country, this project appealed to me.
The above African inspired metal piece began as an earring. Since I don't wear earrings, and would never wear anything that large anyway, this was a perfect embellishment.
I found this piece of handmade paper I had printed the words "Out of Africa" on for another project (specifically my 7-Continent altered book). Even though the colors weren't especially right for this spread, I used it anyway.
The image of Africa came from a geography text book copyrighted 1965. After I scanned the image, I lightened it in PhotoShop until it looked like a watermark. I didn't want it to out shine the other elements on the page.
The materials I used for this spread include a used file folder I swiped with three colors of acrylic paint, two wire embellishments made in Africa, an earring, a charm, and an iron-on patch from my stash, two strips of wallpaper, handmade paper, a scanned image from a geography text book, watercolor crayon, and computer generated text.
Thanks for sticking around to see this summertime Africa spread I created for
Moo-Mania and More
. Both Bleubeard and I appreciate it and your continued support of my art.