This is the time of year when county and state fairs are the rage, at least that's true in the U.S.. In other countries, they are sometimes known as agricultural fairs. People flock to them from far and wide. If you aren't sure what the difference is, if you have an exhibit or competition of some kind you wish to enter, the county where you reside is where you compete or have it judged. If it wins the grand prize in that category, which usually consists of a ribbon only, you are allowed to enter it in that same category at the state fair.
Now I've never made a secret of the fact that Bleubeard was born in a barn. He was given to me as a Christmas present by my goddaughter. His mother, a calico, didn't sandbox train him, so it was left to me, his caregiver, to do so. So far, this is a true story.
This is the point where the story becomes a tall tail or tale, whichever you prefer. Today we're headed to the Bleubeard County Fair. Of course, I had NO idea he was so popular in the county in which he was born.
It seems they have named a county for him and he is the guest of honor at the Bleubeard County Fair.
We didn't need tickets because Bleubeard was the guest of honor. Since I accompanied him, the first place we visited was the area where they kept his animal friends. After all, the agricultural portion of these fairs is often more popular than the rides. However, there was lots to see, so Bleubeard wanted to make the rounds after saying hello to a few of the animal participants.
We entered the midway where we found the amusement rides. This one looked harmless, so we took our chances. Bleubeard wanted to go twice. For me it was a bit scary, because I'm afraid of heights.
We stopped at one of the tents where we met Madame Magnolia. She told Bleubeard's fortune. Of course, we all know what it is, don't we?
Further down the midway was the carousel. Bleubeard indulged me, because I wanted to ride the carousel horse.
Next it was off to the big top, where a virtual 3-ring circus was under way. Bleubeard was delighted to see there were
no
performing elephants or caged lions, only people entertaining today.
When the performers learned Bleubeard had arrived, the ringmaster insisted he join them center ring for a round of applause.
One more look back and Bleubeard was off to reign king of the county fair.
He judged the car show, the tractors and other farm equipment, some of which I couldn't even pronounce, the quilts, the jams, and the cakes. He judged the sheep and chickens. He ate cotton candy, which got in his fur, and he had a waffle cone filled with a frozen ice treat. He was given a box of taffy and was invited to pull taffy they were making, but he declined, since he was still trying to get cotton candy out of his fur. By the end of the day, he was one tired, but finally clean, cat. But he had an absolutely wonderful time at the Bleubeard County Fair. I hope you did, too!
I created the background using a combination of inks, handmade shimmering mists, and acrylic paints. I also used a background stamp to fill in some of the empty spots. For the various children's colorings I found on the internet, I used a new product I found rather by accident in my stash.
I had never used, or even considered using, these watercolor pencils I got from my friend who was throwing things away from his storage shed.
In fact, I had to sharpen each one because none had ever been used or sharpened before. I learned a lot when I worked with these. I needed to use a teeny, tiny brush, rather than the big fat one I'm used to using. But, since the children's coloring images were so childlike, I decided any messes I created when trying to use water with these only added to the idea this was a cat's tale, not mine. Madam Magnolia was cut from a gifted Collage Cats sheet.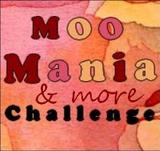 Because
Moo-Mania and More
's theme is
Cats
, Bleubeard would be honored to join the challenge.
And since Bleubeard and I are hosting
Art Journal Journey
this month, we both want to thank you for joining us at the Bleubeard County Fair.
Of course, we also hope to see you at
Art Journal Journey
with your favorite post that is loaded with
summertime love
. There's still a few days left to play.