Welcome to my home, my blog, and my craft space. My name is Elizabeth, and my dear cat Bleubeard is the face of this blog. I am a mixed media artist who started out making altered books. I have no formal art training, and everything I've learned has been through watching internet friends who I admire.
My famous helper and face of this blog is normally here to welcome you,
but today when I woke him, he asked to be relieved of the hosting job this year. He's been a bit under the weather and to show how serious he was, my social butterfly refused to hold still for a good photo.
Squiggles, my new furball (who is NOT the face of this blog) is actually afraid of people. He said he was too young to step into Bleubeard's
shoes
paws, so was not ready or willing to host this party. Too many people would be visiting, and it made him too nervous. He'd rather eat, then bolt back upstairs to my office, where he can hide.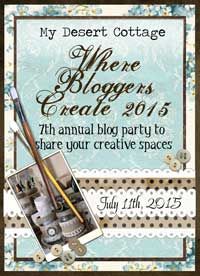 So, for the first time, it looks like I will be the only host taking you on this tour as I join
Karen Valentine
at
My Desert Cottage
for Where Bloggers Create.
I've always said my entire home is a craft area, and today I'll show you just one area which proves it. Just outside my craft room door is an antique enclosed serpentine map chest that has 14 slots. I keep papers I've painted or created in some way in it. It easily holds 12" X 12" paper, as well as my shaving cream, paste, and other background papers. The shallow shelves are perfect for everything that doesn't fit in a regular cabinet. It is especially handy for storing large sized artwork and prints, too.
On the other side of the door is my antique lawyer's (sometimes called Barrister) bookcase. It holds books I plan to alter, or ones I use to find just the right phrases. To its right is a sampling of my altered books. Both cats love to play in them, so I'm surprised they've lasted this long. Other items I collect include letter openers, scales, weights, and musical instruments.
Of course, there's always a rocking horse (or twenty) nearby.
But now it's time to enter the craft room. My studio is in the basement, but the craft room is where I seem to spend most of my time unless I'm creating an assemblage, or fighting with my gelli plate.
As you walk into the door, one of the first things you see is my bulletin board. It holds art that people have sent me. It also holds a few of the rocking horses I've been given.
However, it didn't start that way earlier this week. You can see, it has become run over with too many things, which caused a distraction. There was no place for your eye to land, so it was time to revamp it, which I did.
One year I made about 50 of these little pasta angels and decorated them according to each person's interest. I made the drummer for a dear friend who used to rent the basement studio from me. Many of my internet friends' art hangs here, too.
However, it's now time to move on, as we start our tour of the craft room. This is a very small room, about 8' X 8' (2,44 meter X 2,44 meter). So every square inch is used. BTW, are you counting the rocking horses?
Over the years, I've offered this tip about embossing powder. There is no easy way to know what color is in the bottles, because all the lids are white. By storing them upside down, you know immediately what color to choose. HMMM! Seems I've not put one back upside down. Of course, there's also some rub-n-buff in the drawer, too, but the lid color tells what color it is.
As I mentioned before, every square inch of space is used, because as a mixed media artist, I have a LOT of minutia that many artists would have no need for. Also, I am a firm believer in see-through storage, whenever possible. If not, label everything so you can get your hands on it quickly.
A few of my tools are kept here, others in the basement, depending on the art I'm making. I have two heat tools, so I don't have to cart one from craft room to studio and vice versa.
I put these shelves up myself. Although I didn't do the best job in the world, I am happy with how they turned out, because I needed the space. On the right is my OTT full spectrum light. I have one in the basement, too. They come in handy when I want to know the exact shade of blue or yellow I need. A pin cushion sits on top of my pencil sharpener.
For the life of me, I can't believe how many different adhesives I need, but they are all useful and used for different purposes. I have a huge 10 basket adhesive container in the basement, so I am never far from glue. And, no, I didn't clean it before you came. It would just return to this condition as soon as I needed something.
Brushes and pens are not used very often. I'm not really a painter and I don't write by hand unless it's especially necessary. However, I seem to acquired a lot of pens in the past few months when I went on a pen shopping spree. You can see I've not even opened the containers, though, so those may have been wasted purchases.
The next two shelves hold mostly fabric. I have fabric in the basement, too. It's where I keep my bed sheets I tear up to dye, as well as recently purchased fabrics. On the lower shelf in the middle, I keep Golden heavy paint and on the right are all my napkins.
I used a hollow core door as a sitting area. I don't sit to make art, but I sit to sew. It also holds my guillotine cutter, which I love.
I have two fancy Fiskar cutters in the basement, but they don't make sense to me. And after using one a few times, it seems you have to replace the blade. Not so with this workhorse.
Speaking of workhorse, there's not a day goes by I don't sew. I'm not a seamstress, couldn't cut OR sew a straight line if my life depended on it, but I love to tear fabric and sew paper to paper or fabric to paper. This machine is so old it doesn't even have feed dogs that drop, so what I make is definitely limited.
I try to keep my sewing supplies, like thread, bobbins, seam ripper, and needles handy. Needles and extra feet for my machine are kept in the blue container, along with whatever current thread I'm using. The rest is kept in the rolling black, gray, and dark gray container on the far right in the above photo.
Before we get to the new roll-around container, and before we continue, I want to show how this area has changed. This is a "before" shot. This corner has been a mess for quite some time, so I wanted to clean and purge and change things around.
However, when I did, I need to show another "before" shot.
I moved all my handmade mists to this area and thought how proud I was of how it looked. However, sometimes good looks and function are not compatible.
It only took about four days for me to realize this wasn't going to work, partly because the cabinet is taller than I and since the items were on top of that, I needed a stool just to reach my mists, which I use
all
the time. As an aside, don't use self stick address labels to mark your drawers, then photograph them, unless you want your address splattered all over the internet.
Ah! That's more like it. I can see every color, I can reach every color, and I don't have to use a stool to reach them, either.
And I even have room for the three rocking horses that decorated the top of this unit, too.
Note how I've gotten rid of several of the containers that hold rolls of needed materials, such as wax paper, freezer paper, parchment paper, and aluminum foil. I was shocked at the redundancy, especially since I have made trips from the basement to the craft room for a length of parchment paper or aluminum foil. It was well worth the effort to clean that area.
Did I mention I get sidetracked easily?
I should mention this is a working craft area, so I wasn't going to hide items I'm working on, such as the caulk gun I've tried to find a place for until I can use it after you have visited.
One of my next projects involves making silicone rubber molds for polymer clay. I hope to have a frozen Charlotte mold soon using the caulk gun and these products.
Also on my table is the only (yes, ONLY) pair of scissors that cuts fabric. I make sure no one ever uses them because I've added this thread cutter fob. When I first saw it several years ago in the craft store, I thought it looked a bit like the distressing tool sold by a big name artist and company. I use it for both cutting thread and distressing paper, so it gets double duty and doesn't seem to ever dull.
Another project I'm working on is altering this doll dress I got at the dollar store. It's my feeble attempt to distract you from seeing the drawer that won't close in the bottom of this chest of drawers. At one time, three drawers wouldn't close properly, so I guess having only one that won't completely close now is well worth my efforts. Inside the sheer bag is another rocking horse that was a gift.
I originally purchased this cabinet back in 2010 to hold the little paper, cloth, and ephemera dresses that now hang above the other window. As part of a collaborative, I made at least one dress a month for an entire year. However, once I decided to hang the dresses, rather than use the container, it became much needed storage for more mixed media and sewing supplies.
My dear friend Kathy gave me one of her two die cutters, but I only have ONE die, which is tags, so I don't use it very often. Mostly it takes up space on my dresser that holds my ribbons and fibers.
Another tip is that if you are out of floor space, find a way to go up.
I've gone almost to the ceiling in this area, and still left room for my small step stool to fit without moving the rolling cart.
I have a dear friend who gave me this rolling unit. It rolls quite well, even on carpet, because I mostly keep lightweight items in it, such as
some of my sewing threads. These are either the odd shapes (found on the left), or variegated (shown on the right). I did a tutorial on how to keep thread from tangling from bobbins by using plastic tubing I've cut and sliced. Yes, this specific photo is a few months old, before I started watermarking my photos. You get a good look at my arm and hand in this one, too.
I have also moved my rubber stamps to the lower shelves. I have only a few, but they outgrew the single drawer I was originally keeping them in. And since I am not much of a stamper, I really like my rubber on wood mounts.
Going forward, this is the desk I laughingly call mail central. I used to host a lot of swaps, so this is where the packages were sorted, weighed, stamped, and sealed.
Now the top two drawers are mostly storage space for my digital postal scale, postage stamps sorted by denomination, extra packing tape, customs forms, and address labels.
Although I didn't realize it until I was perusing these photos,
I seem to have a dress or clothing theme from art I have made.
Lots of rocking horses
sit in both windows of my craft room. I don't have much of a view, but at least the greenery outside this window hides the next door neighbor's view.
The savvy guest will notice I've moved this lovely art to this wall, where it now takes center stage. The self healing mat and acrylic cutting ruler are for fabric. Now if I only had a rotary cutter! On the same wall, above a full container of envelopes is my packing tape dispenser.
I suspect now would be a good time to show my work table. Over the years, I have added more and more items to this table I seem to need close at hand. Lately I've been recycling a lot of used file folders for my art challenges. I cut the folders in half, then add three holes using my three hole punch.
I'm not sure how I've moved to the top of this gray metal cabinet already, because there are other things we could have seen before that.
But maybe it's because I am so happy with this basket that I didn't want to wait any longer to share it.
I was told this was a storage container for a bathroom, but I found it useful to house a few bits and pieces that didn't really fit anywhere else.
This is one of the best payments I have ever received. After I helped an ophthalmologist friend set up and record his HIPAA accounts, he "paid" me with this cabinet he was getting rid of. For a long time, it held my very few rubber stamps. But, I have since outgrown the one drawer that used to hold them.
I guess I can't avoid this "mess" any longer. I have five of these over-the-door shoe holders, and they are very, very useful. They hold a lot and are see-thru, too. I know it looks like a mess, but I know exactly where everything is. If I straighten and move things, I won't find them. That's my story and I'm sticking to it!
It's amazing how the one inside my closet, which is always hidden from view, is much neater and seemingly more organized.
Since this is an extremely small room, the mirror adds both light and perceived added space. The metal cabinet is good for holding magnets and magnetic art I have made.
I tell everyone who visits that I keep my inkers separate by type. Here you see my solvent inks. To the right, mostly out of camera range are my dye inks.
The top container holds distress inks and the bottom pigment inks. Although I'm not much of a stamper, as I've mentioned before, I love to dye fabric using these types of inkers. So you won't find many stamp pads, but you will find a bunch of reinkers, sorted by type.
Here is an overall view of the east wall with the closet door open. You can also see a view of the back side of my work table, and the amount of space I have between the table and dresser. There is just enough room to open the drawers all the way. Both of the leaves in the table are not in use at the moment, but if I have a big project, I move the table and lift the leaves.
I seem to have skipped around, because we are now just to the side of the gray cabinet. Note to self: vacuum before inviting guests into your craft space. Do you see the door in the photo?
It actually opens, so I can take a picture of the south (on the left) and west (to the back of the photo) walls of this small room. You can also see two of the five anti-static mats I've laid down on the floor to keep paint off the carpet. Yes, that's paint I can't get off the mat near my work table.
The nice thing is, it leads to a full bath, so if you need to "go" before you leave, please feel free to use the facility.
Of course I saved what some believe is the best till last.
Here is a close up of some of my handmade paper. I haven't made any in nearly a year because my six molds are no longer functional.
I keep my paint on its side, so it's handy when ready to be used, and I can tell what color I need just by looking at the bottom of the container. I also have a good idea how much paint is left in the container, too. I try to keep my paint separated by cool and warm colors, but sometimes I run out of a color and replace it with a different color that I don't have room for in its original slot.
I need a "grabber" when standing on my step stool in order to reach these items.
Now that you've seen all the specifics, here is the overall room.
Put together from items given me, or ones I've had in my home forever,
this room will never win awards or even accolades. But as a working, functioning craft area,
it works for me. And that's what I tell people. If you try to set up a studio like mine, it will probably not work. What works for me, may not work for you. And as I pointed out before, if you don't like the way an area is working, change it, but document the move. If you don't, you'll return to the previous place and spend time hunting it down.
Thanks for visiting. I am so glad you came. I'd invite you to sit awhile for tea or coffee on my front porch, but I'm sure you have others to visit. And of course, I need to thank
Karen
for once again hosting this 7th annual party. Next year I hope to spend more time in the basement studio and redo it.
Please be aware, that I hope to visit YOU over the next few weeks, as time permits, but there are many G + and a few WordPress blogs I can't leave comments on. It's all in how the comments are set up, I'm sure.