Today officially marks the first day of summertime art and the Summer of Acronyms. Each year I join two art related events: SOC and ICAD. I warned you it was a summer of acronyms, with SOC standing for Summer of Color which is hosted by the adorable Kristin at
Twinkle, Twinkle
and ICAD, standing for Index Card a Day which is hosted by the colorful Tammy at
Daisy Yellow
. Both SOC and ICAD are in their 5th years.
I'd like to begin by saying I'll be linking to Kristin's blog each week, but I don't think Tammy uses links anymore. However, I understand if you want to show your ICADs, there is a Facebook, Instagram, twitter, Tumblr, and Flickr group you can join in lieu of the links. Sadly, I don't belong to any of these other social media sites.
I'd like to add that I am NOT following the rules that Tammy has laid out this year. She insists we
must
us an index card. I can't see going out and buying something (even as inexpensive as an IC) when I have the perfect replacement or substitute in the form of many, many, many, many old manilla folders. I swear the more of them I use, the faster they multiply. She DOES admit that some of the Index Cards feel like manilla folders. So, not only will mine FEEL like manilla folders, they have now all been cut to 3" X 5" after originally starting life AS manilla folders. Every penny saved is another one I can spend on Ramen Noodles (this is an inside joke meant for those of you who know how much I love those noodles).
Here is my first ICAD of 2015. I won't be using any of Tammy's prompts, but will make this the Year of the "S"s: scraps, stamps, staples, sewing, and spray mists (my handmade, of course). My goals are to not use any glue on these ICs and learn to stamp a bit better.
So summer has officially begun with my first ICAD. From now on, I will post a week's worth of ICADs every Friday, except the remainder of this first week, which will be from Tuesday through Friday.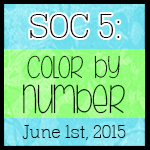 I'm now off to visit
Kristin
at
Twinkle, Twinkle
to find out what she has in store for us at Summer of Color. It would be fun if you join me there, too.