I don't really like to combine challenges, but this was just too good to pass up. I'm trying to finish a few things, and one of them is the
Altered Playing Card Challenge. This challenge is now completed, and I have moved the above icon from my right sidebar, along with the URL where to find the completed set of APCs, to
Previous Collaborations
which is located at the top of my home page.
We were asked to decorate our jokers, but
I didn't have any jokers. So of course, I improvised by going to my huge stash of playing cards.
I definitely didn't want to take the time to gesso these cards, so found a security envelope I thought would fit the bill. In addition to that, I hoped to use these rollers, a pencil eraser, and a couple of sheets of old dictionary pages I spritzed with my handmade shimmering mists.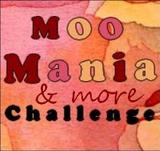 The theme this fortnight at
Moo Mania and More
is flowers.
And what could be more perfect for my Faux Jokers than flowers. After all, once the playing cards were covered, who would know, other than you and me, that they were not jokers.
I call this one My Fantasy Garden
and this one Springtime in the Rockies. Granted, i have no idea what springtime looks like in the Rockies, but I thought these flowers looked like they had grown up in a field at the base of a mountain.
For the APC on the left, I cut dictionary pages into the shape of the flowers. The centers were two pony beads I melted during April's recycling days. I used some rick rack gifted me at Christmas by Chris.
For Springtime in the Rockies, I tried to get my rollers to roll lines, but ended up with a bit of a mess. I dipped a pencil eraser in two colors to make the flowers.
Thanks for joining me at Moo Mania with my Faux Joker flowers and thanks for sticking with me through all these altered playing cards. For once, I am totally happy with what I created, because these were of my own (and only my own) design.