Just in time for Christmas, is this latest entry for
Darcy'
s ARC, or Artful Readers Club.
Hardcover: 485 pages
Publisher: Bantam Books (2002)
Language: English
ISBN-10: 0786248017
ISBN-13: 978-0786248018
Product Dimensions: 8.9 x 6.5 x 1.1 inches
This hardcover book and its colorful book jacket don't look much different from the one shown on the internet. Unlike many previous books I've reviewed, this one is not an art book, so will not be laden down with many, many photos from the book.
It's Christmas time in Bakerhaven, CT, and the famous puzzle lady, Cora Felton has apparently been miscast as one of the eight maids-a-milking in the musical production of
The 12 Days of Christmas
. As I read this puzzler (intentional pun inserted here), I started to realize this was a series, with the puzzle lady at the center of every mystery.
The puzzler started when a note in a red envelope replaced the partridge in the pear tree prop. This was no normal puzzle, though. It was an
acrostic.
Although the author, Parnell Hall, explained what an acrostic was, and provided
real acrostics throughout the book, I still didn't understand what was going on, even though my name seems to be part of the above puzzle (see "N." upper right above). Consequently, I was not surprised that Cora, who apparently is only the face of puzzle lady and doesn't really solve the puzzles, but allows her niece Sherry Carter to, was unable to solve the first puzzle. To make matters worse, Cora was expected to solve the puzzle in front of the entire cast of the show. Cleverly, Sherry unravels the puzzle mystery in front of the unsuspecting crowd.
The acrostic clues threaten the "leading lady," whom everyone (including the reader) assumes is Becky Baldwin, the attention seeking star of the "Twelve Days of Christmas" play, and Sherry's rival for the affections of newspaper reporter Aaron Grant. However, another play, a nativity set outside in the snow, also stars both Sherry and Becky, and each has been cast as the Virgin Mary. They are not the only Virgin Marys, though, so when one of the other Virgin Marys, Dorrie, turns up dead just in time for Sherry to discover her body and be accused of Dorrie's murder, Cora goes into sleuth mode.
Cora has a nemesis in the form of Scotland Yard's detective
Jonathan Doddsworth, who is in
Bakerhaven visiting his estranged family. At his daughter Maxine's (Max) request, who was also the best friend of the dead girl Dorrie, Doddsworth takes on the case, even though he has no jurisdiction in Bakerhaven.

And he soon steers the investigation in his favor by accusing Sherry of the crime, which forces the sheriff to arrest her.
From there, this cozy turns into a real puzzle. There are so many twists and turns, especially in the end, you have no idea who the killer really is. Even after you're told who the killer is, Cora reveals it was all a lie. In the end, the true killer is revealed, but this is one mystery you have to read for yourself, because it's too convoluted to explain!
I had a definite plan when I started my art this month, but time, the realization the "pear" stamp I thought I owned was really a LEMON (and that is literal, not figurative), and my inability to draw even simple shapes, forced this piece to look far different than I originally intended.
I started with a 12 X 12 inch card stock weight scrapbook size page, then cut it down once I had all the images in place.
The red envelope found in the pear tree
became the focus of attention, especially since there were three red envelopes delivered over time, and an entire package of red envelopes found by
Jonathan Doddsworth at Sherry's house.
This was not the "pear tree" I originally planned, but I found a tree I made from my collographic plate earlier this month that was on a yellow background, so I hope ARC artists will believe it is an abstract pear tree. Of course, I realize it's a bit of a stretch.
I found a definition of an acrostic in a dictionary that actually made more sense than the one the author of the story provided. See if this doesn't make more sense to you than the one offered by the author, above. Wish I had seen this before I tried to make sense of Hall's explanation. Sorry about the shadow. It was actually from the protrusion of the camera lens.
The other filler puzzles came from my local newspaper, none of which are acrostics.
For those of you used to how I provide tons of photos from both my book reviews and the art, this review is probably a welcome change.
Did I like the book? It was a quick read, although it was convoluted and lost me toward the end. In fact, I had to go back and reread the last chapter to "get it." I'm not sure if I could recommend it or not. It's part of a series, so if you are familiar with The Puzzle Lady series, you will probably find a softer puzzle lady than in the past. From what I learned about the puzzle lady, her boozing was curtailed in this book, although her chain smoking was not. So I'll let someone else decide how many stars this book should get! It might be just the diversion some of you need to help you through the upcoming Christmas holiday season.
For those of you who live in the US, I hope you had a safe, joy filled Thanksgiving. For everyone else around the world, this is Day 29 of
AEDM
and I completed my
Artful Readers Club (ARC)
book review and corresponding art.
For my final ARC, I will review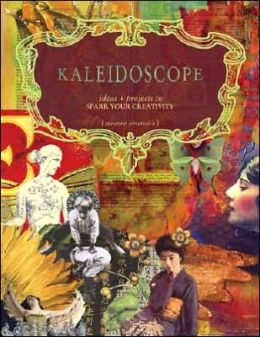 Kaleidoscope: Ideas & Projects to Spark Your Creativity
by Suzanne Simanaitis