Darcy'
s ARC, or Artful Readers Club, will soon be posted, and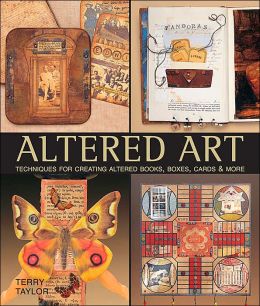 Terry Taylor's Altered Art is up for review this month.
ISBN-13:

9781579905507
Publisher: Lark Books NC
Publication date: 9/1/2004
Pages: 144

Product dimensions:

8.84 (w) x 10.28 (h) x 0.69 (d)
Please note I posted this last week before I read that Darcy had pushed our October ARC reviews back a week. Please be aware this in NOT part of AEDM, or Art Every Day Month.
I started this post in early September with a few photos I took with my old camera.
Eventually I went back and took a few shots I had forgotten,
like the ones in these opening pages. I suggest you view them in the "lightbox," or where you click on the photos so they enlarge.
Ones like this spread, which discusses what jurors look for when judging what will be included in books or art shows, will NOT enlarge.
I should have retaken this photo so you could read what tools and supplies you would need to make altered objects.
Of course, you're unable to see what supplies you might want to use, too.
The first section was on altered books. Each chapter is laid out the same way, with the basics shown first.
As many of you know (possibly from the title of my blog, or links to posts on my right sidebar), I have made my fair share of altered books.
This particular chapter began with "personal myths," something the artist who wrote the altered book chapter focused on. Thankfully, this is the last of the photos you can't enlarge.
Please do yourself a favor. If you truly want to see what this book is all about, please enlarge the photos you will see from now on.
More "Personal Myths."
The final pages of each chapter contains examples of objects that others have designed and made specifically for the book. These are all examples of altered books,
as are these.
It was at this time, I decided to show only relevant photos, including the basics of tins and boxes.
I spent a lot of time on this chapter, because I knew this is where my inspiration would come.
At first, I planned to alter a sardine tin. I even bought a tin of sardines, and tried to feed it to Bleubeard, who promptly stuck his nose up and walked away from a full bowl of sardines!
But, I truly wanted to alter a cigar box,
like the ones shown in the Gallery section.
The next section focused on cards, tags, and games.
Many of these were truly inspiring, although there were some I'd never seen before.
I had to laugh at this section, because so many of my artist friends
make Timmy (Tim Holtz) tags that make this entire section outdated.
Several of my artist friends still make altered puzzles, so I read this section with great interest.
This reminded me of several checker boards and a "Life" game board I once altered. Nothing new here, but fun to learn how the artist created the piece.
Many of my friends send mail art, so I read this section with great interest in hopes for some mail art tips.
Even without enlarging the photo, we all know Claudine Hellmuth made the poppets on the right page. The images on the bottom left reminded me of
a postcard I made years ago.
The final chapter dealt with altered objects, a chapter I really enjoyed reading. Again, the author started with the basics.
There were lots of examples, including these blockheads.
The Gallery section was filled with fun objects.
The altered objects came in all shapes and sizes, and were as clever and unique as the artists, themselves.
For my inspiration art, I started with this wooden cigar box my friend Anna Wood sent me all the way from Canada. Unfortunately, Anna doesn't have a blog, or I would share it with you. I began by trying to sand down the patina on this box.
Some of you were probably here on Monday when I created my Monday Mandala from a few of these shells. And yes, that's my camera strap in the photo (grin).
I finished the assembly and took it to my main floor craft room, where the lighting was marginally better on this cold, drab day.
Although I don't have any step-out photos, I will walk you through how I made this altered cigar box that took three days to finish. I began by deciding to cover the top of the cigar box with sandpaper, because I couldn't get the patina off the box. The image was printed on vellum.
Now I confess, I'm a bit of a minimalist, but the person I made this box for is not. So, I tried to glam it up, at least a bit, by using various shells and a tiny container of sand on the box lid.
I used various shells on the inside after I attached the image using gel medium. Somehow, I envisioned more shells when I started, but I ran out of small shells before I ran out of box.
The inside top of the box also got a shell and a computer generated saying I created on vellum.
I love how the Simon's Havana insignia stamp can be seen through the saying.
I admit that the person I've made this for would have added shells all over the outside, but I chose a bit more discretion.
After I started working on the box, I decided I didn't want to cover the original patina or the beautiful wood on the inside. I hope I didn't bore you too much, either with photos or my inspiration art.
I give this book 4 of 5 stars. I was obviously
in love
with the altered objects and the pieces that were selected, but this was one of those books where the only author was the one who got the book published. I have a thing about that, although I know it's done all the time in the publishing industry, and art books are no different. Just because the author spent time deciding what art would go
in
the book, it doesn't make him any more important than the other people who contributed their time, efforts, writings, and art
to
the book.
And to get you in the mood, next month I'll be reviewing:
Please visit our host
Darcy
for links to other Artful Readers Club members. I know they will appreciate your visit as much as I.