I saw this at my friends
The Trout Talking Tabbies
blog and decided to share it on my blog as well.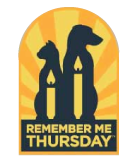 This is a worthwhile cause and, if it gets even ONE person who reads my blog thinking about how to help, I will have done my part.
Per the
Remember Me Thursday
blog,
Remember Me Thursday® is a global awareness campaign uniting individuals and pet adoption organizations around the world as an unstoppable, integrated voice for orphan pets to live in forever homes, not die waiting for them.
Today, September 28, 2017, the entire world shares the importance of pet adoption and shines a light on all orphan pets waiting in shelters and rescues. In 2016, people using #RememberTheRescue and #RememberMeThursday reached nearly 340 million people on social media.
They ask that we share photos of our own rescued pets today, so here are a few of both Bleubeard (born in a barn and a Christmas gift from my god-daughter) and Squiggles (purchased from the Humane Society).
Both Squiggles (top row with his pink nose) and Bleubeard (bottom row with his black nose, and also the face of our blog) have found forever homes with me. I always say love me, love my cat! I'm trying to do my part, won't you do the same?
A few facts you may not know:
Only 30% of pets in US households come from rescue facilities.
Each year, over 2.7 million orphan shelter pets lose their lives without finding their forever home.
Orphan pets should live in forever homes, not die waiting for them.
Now in its fifth year, according to Remember Me Thursday:
In the previous four years of the campaign, 180 countries supported the movement with hundreds of thousands of individuals and more than 700 separate animal welfare organizations around the globe holding candle-lighting ceremonies of their own, spreading the message on social media, visiting the Remember Me Thursday website, or lighting a virtual candle.
I'm lighting two candles today, one for Bleubeard and one for Squiggles. I hope you join me, if only in spirit. Thank you, thank you, thank you.